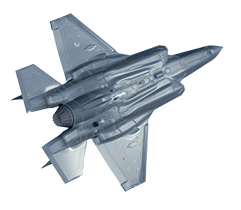 EUROPEAN FREIGHT
Moving F-35 parts throughout Europe needs a dense trucking network with reliable & specialist trucking companies with a strong focus on safety, security, tracking,  cost and compliance. 
What is often easy in the USA is often complex in Europe, because it is a fragmented and complicated region with many different countries, languages and cultures. The logistics process of the F-35 becomes even more complex as a result of speci c EU and national laws and regulations. That's why it is
necessary to set up the F-35 supply chain in Europe in a detailed way and closely monitor all steps, to be able to guarantee timely delivery of parts. OneLogistics knows the laws and regulations, monitors the entire logistic process using best practice trucking companies, smart software, solves problems with regional and local knowledge of logistic structures and partners, is in the same time zone as its customers. This makes the difference between delivering on time or just too late.
OneLogistics offers the F-35 program a total solution for European road freight. We operate a road freight system with  fixed departures days/times and guaranteed short lead-times that ensure that
the F-35 parts will arrive on time. In order to facilitate these transport solutions we have an extensive European network at our disposal for all daily import/export shipments. Our cross-dock and warehousing facility in LCW Woensdrecht as well as Schiphol Airport are the main hubs of our logistics services.
European Airfreight: Schiphol as European Gateway is connected with the European region through a dense network of flights.