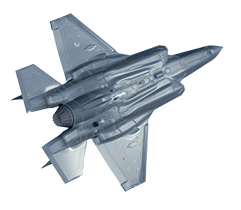 REGIONAL CONTROL TOWER
Due to the complexities in customs & logistics regulations   and time zone differences a local control tower is essential in sustaining the F-35. We have combined the strengths and innovation of the logistics industry , knowlegde institutes with backup of Government and offer that as an integrated F-35 sustainment logistics solution.  
The Regional Control Tower will tap into the best value solutions of the logistics service providers (PSPs/3PL). The task of establishing an independent entity in the Netherlands, to set up the Regional Control Tower, has received initial support from the government and various knowledge institutes. This makes it possible to offer a fully neutral, best-in-class solution to the F35 program; a project management as well as a system solution. The approach is geared toward the needs of the F35 program. Our role is to identify the best options and partners (including logistics partners), supported by all the stakeholders.
Due to the complexity of the European region we will provide the program with specific solutions for the F-35 program such as customs, compliance and supply chain control solutions. We manage the European F-35 supply chain roll out through an Integrated Project Team (IPT) or Program Management Office (PMO). This IPT/PMO will have representatives from all relevant F-35 stakeholders.
The OneLogistics Control Tower system solution is based on the ILIAS system. ILIAS delivers a commercial off-the-shelf software suite to support military commanders in doing more with less.
The platform covers the entire armed forces value chain. It aligns operations and training with maintenance, supply and procurement. The platform provides the means to assure effective execution of processes, captures key information and enables military commanders to manage their defense capability in accordance with the doctrine and within the constraints of their budgets.
From the start, a tri-service comprehensive solution was the basic requirement. The platform is designed as one consistently integrated solution, which retains the flexibility to match the specific requirements of our military customers. This way, we complement their current ICT landscape with our defense specific functionality, provide support throughout the life of the software and grow the footprint of our solution from an initial weapon system to full force fleet management over time.
Our platform is the result of 20 years of consistent focus on defense. We have harnessed know-how that can be turned directly into value for our customers. Our approach encompasses best-practices, ensuring low implementation cost, time and risk.